kdyoga and Mindfulness for Seniors
We are as young as we feel! Yoga asanas tone up the body; keep our internal organs and the hormonal system in balance, whilst mindfulness refreshes the mind and spirit. Hence, it is essential for people of all ages to practice regularly.
Gentle exercise, such as Yoga has been shown to be particularly helpful in maintaining mobility and well being, as we get older. 
Kelly finds a way to take you the down the pathway of reminiscence using childhood memories to teach the practice of yoga either in care homes, or in the comfort of their own home: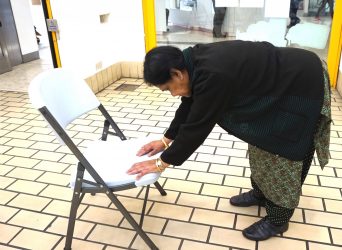 Gentle Yoga and Mindfulness Group Classes and One-to-One
Gentle Vinyasa flow on the mat connecting you to your body and mind. This session is practiced along with music to liberate and transform your mind body and soul. Through breath and joyful movement you will find space and awareness within to connect express and ultimately shine.
Chair Yoga and Mindfulness Group Classes and One-to-One
Although traditional yoga exercises can be very beneficial, I have found that an adaptation of regular yoga in which exercises are done while sitting or holding onto a chair, rather than sitting on a yoga mat on the floor are just as beneficial. By providing extra stability, the chair reduces anxiety and makes yoga a safe exercise for everyone.
It is beneficial for people with a range of health issues such as
Hypertension (high blood pressure)
Vertigo (dizziness)
Arthritis
Osteoporosis
Back problems
Multiple sclerosis
Fatigue
Chronic pain
Anxiety
Depression
Chair yoga encompasses all aspects of an individual: physical, emotional, mental, and spiritual. Chair yoga increases strength, flexibility, concentration, balance, and energy, range of motion, breathing capacity, circulation, and confidence and can help reduce the risk of falls and other injuries. Chair yoga also encourages quiet reflection, relaxation, breathing, good posture, and a sense of well-being.
This gentle form of Rhythmic Yoga is done in a chair, or with the support of a chair. The class includes stretching and strengthening of muscles, working with individual joints, breathing exercises and relaxation. Exploring mindfulness techniques to allow you to embrace and enjoy the present moment. The class is suitable for older people, those in a wheel chair, with limited movement or recovering from illness.

Interested? Find a Class Now