Kdyoga work with each educational setting to develop a bespoke programme of yoga and mindfulness that will enrich the school curriculum and support pupils to become grounded and focused. 
One example of this was working collaboratively with an SEN school to create yoga communication aids and visual timetables for ASC (autistic spectrum conditions) pupils. Providing such aids allowed the pupils to access the yoga and mindfulness programme fully and developed a deeper understanding of the practice for all those involved. We work across a broad spectrum of educational settings and with any age-range of pupils.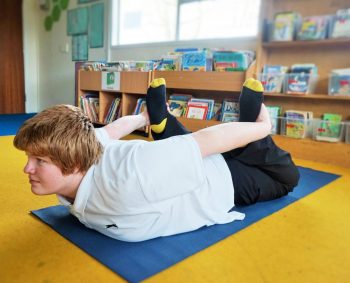 Free Assessment Session
As a bespoke company Kdyoga offer a free Assessment session in school to insure that the sessions that are offered fit your schools specific needs giving Kelly the tools to create the right programme for you!
All Programmes include SEL Activities
All of Kdyoga and Mindful Practices' student programmes include SEL activities and games that help strengthen student self-awareness, self-regulation and interpersonal skills. Students are encouraged to examine and explore their range of emotions through age-appropriate activities, both individual and group formats.
Classes offered to Schools
Yoga, Mindfulness and Relaxation for Special Children and Teens (groups or on a one-to-one basis)
Mindful Practices' Cool & Calm Yoga is an innovative student programme that brings movement, mindfulness, breath work and Social-Emotional Learning into the school setting in the form of an after school Club. Along with the physical and emotional benefits of yoga, this program incorporates SEL strategies to help build student mind-body health, as well as self-awareness and self-regulation skills. A typical program runs for 10-12 weeks/semester and can take up to 14 students/class.
Chair Yoga in the Classroom
Chair yoga offers modified traditional yoga poses and breathing techniques in a chair or wheel chair encouraging respect for oneself and others creates a calm, harmonious classroom. As well as this Yoga in the classroom encouraging community and connectedness, providing opportunities for beneficial motor breaks throughout the day, supports social and emotional learning and Improves listening skills, organizational and communication skills. Encompassing all aspects of an individual: physical, emotional, mental Chair yoga not only increases strength, flexibility, concentration, balance, and energy, range of motion, breathing capacity, circulation, Chair yoga also encourages quiet reflection, relaxation, breathing, good posture, and a sense of well-being.
Lunchtime yoga and relaxation techniques
Kelly takes you on a journey, reconnecting you to your body and mind, calming the digestive system before the afternoon sessions begin.
10 week 1:1 or small group Yoga intervention for young people facing complex emotional challenges
Time for reflection and healing these sessions focus on the individuals mind set and encourages you to set positive goals for yourself and the day ahead. Through a range of dynamic postures the body reconnects you back to the body with breath.
Yoga Rhythms
It is an upbeat and energizing after school programme that fuses contemporary dance and yoga into a fun and creative performance piece. The program offers students the mind-body focus of yoga combined creative dance high-energy and expressive choreography. Social-Emotional Learning (SEL) strategies are woven into the program format to provide students with stronger self-awareness, self-regulation and interpersonal skills. A typical program runs for 10 weeks and can take up to 14 students/class.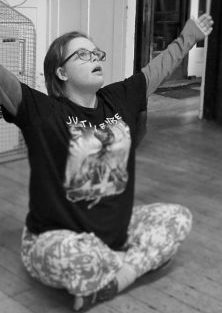 Classes offered for Educators
After School
1-hour dynamic vinyasa combining breath and movement to help relieve the stresses of the day and reconnect you to the present moment.
Inset Days
An opportunity to give staff the nurture and care that they give to their pupils everyday at school followed by an opportunity to ask questions and receive and exciting and healthy pack of veggie recipes from Kdyoga.
Interested? Find a Class Now