kdyoga and Mindfulness at Home
kdyoga are offering bespoke Yoga and mindfulness sessions for children and young adults with additional needs.
The sessions will be held in the comfort of his or her own home so no traveling needed or change of environment.
Yoga has many benefits such as developing strength and flexibility, motor skills and facilitating self-awareness and self-regulation. Yoga improves confidence and social skills and provides sensory integration. By becoming aware of their bodies and aware of their breathing yoga provides them with the ability to cope when the world outside just get too much.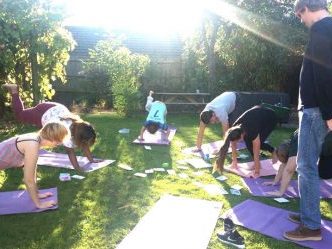 Free assessment
All sessions include a free 40-minute assessment session in which Kelly is able to assess the needs of the individual or group. This will allow her to create a bespoke package of lessons and visual aids necessary as well as discuss the suitability of her sessions.
Classes offered to private individuals in the comfort of your own home
Yoga, Mindfulness and Relaxation for Special needs Children, Teens and Adults (on a 1:1 basis, small group or with Parent/carer participation
Kelly runs a 6-10 week programme (but duration can be discussed) that provides the young person/ people with the tools and techniques to reach their full potential.
kdyoga develop independence skills in order to practice Yoga and relaxation techniques in the comfort of their own home whenever they chose. When working in a small group session I include team building yoga games too. Social-Emotional Learning (SEL) strategies are woven into the program format to provide students with stronger self-awareness, self-regulation and interpersonal skills.
kdyoga sessions are therapeutic and nurturing allowing the young person to explore their body creatively and safely.
Parent and Child Yoga
Kdyoga offer bespoke specialized yoga session tailored to you and your child's individual needs in the comfort of your own home
These bespoke sessions creating a deeper connection, as you and your child take on a journey of rediscovery together
"Kelly has a very unique and inspiring way to teach yoga, understanding all his special needs and anxieties but also clearly sees his strengths.
She instilled confidence, joy and love in every session and Luca started to become more secure within himself."
"Its wonderful to see him more happy and confident and incredibly Luca has developed more speech to communicate his feelings to us, so that we can slowly understand more about his inner hidden world, that was for a long time not accessible to us.
Luca and me are looking forward to every yoga session with Kelly-which is more then just yoga: its like a beautiful colourful rainbow that just makes you smile." – Gabriela Benaglio
"Kelly creates an atmosphere of confidence, enthusiasm and non-competitiveness where everyone can succeed. Everyone can be a Bright Powerful and Shining Star!" – Joshua
Interested? Find a Class Now